Offshore Wind North East 2022 - A national event in a pioneering offshore wind region of the UK
Arrangementsinformasjon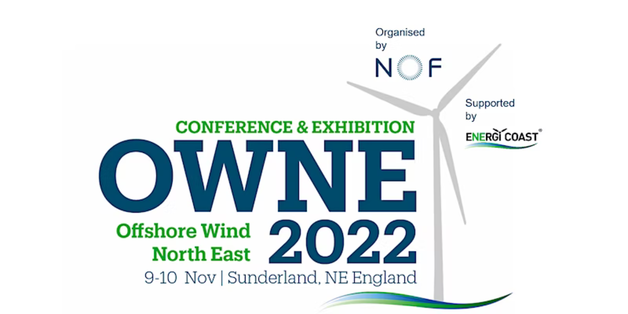 Offshore Wind North East (OWNE) is a leading event that explores themes and opportunities in the offshore wind sector. We bring together an impressive line-up of speakers to update you on their business activities and how to engage going forward. This year we anticipate over 130 exhibitors and 800 + attendees.
Please use the code NBCCMem2022 when checking out to claim a 10% discount only for NBCC members.
OWNE Themes Announced
We're developing an exciting 2-day programme with key players in the offshore wind industry, to enhance the business development and networking opportunities available to our members and the wider network. Check out our main themes below...
Welcome session - The welcome session will be hosted by Joanne Leng MBE, NOF Chief Executive. Tony Quinn, Energi Coast Chair and Offshore Renewable Energy Catapult Test & Validation Director, will be discussing the importance of Offshore Wind as part of the UK Energy Security Strategy and how it supports clean energy growth. We will also be joined by Mark Legerton, RWE Renewables Head of Offshore Development Project Management & Optimisation. Mark will be providing his senior perspective of the current and future offshore wind sector supply chain opportunities.
Theme 1 - Projects(UK & Global)
Theme 2 - Supply Chain & Procurement Opportunities
Theme 3 - Innovation
Theme 4 - Skills
Theme 5 - Floating Offshore Wind
Theme 6 - Logistics & Infrastructure


Conference Programme
Wednesday 9th November 2022
08:30-17:30
08:30 - Exhibition open

09:15 - 10:20 Welcome to OWNE: A national event in a pioneering offshore wind region
NOF
The Energi Coast value proposition to support Energy Security and Clean Energy Growth in the UK
Energi Coast
A developers perspective on future supply chain needs
RWE Renewables

10:45 - 11:30 Sofia Offshore Wind Farm an RWE Renewables project
RWE Renewables

12:00 - 12:45 Logistics and Infrastructure: Airports, Offshore Wind Ports and Teesside Freeport
Teesside International Airport, Able UK, PD Ports, Port of Blyth, Port of Tyne
Panel Discussion

13:15 - 14:00 Routes to market through innovation
Hosted by ORE Catapult
Panellists: MJR Controls, Kinewell Energy, Transmission Dynamics and Unasys

14:30 - 15:00 Location, location, location - North East England the place to be for offshore wind
Hosted by NOF
Panellists: Invest North East England, Invest Tees Valley, JDR Cable Systems

15:30 - 16:30 ScotWind and AR4 results – the impact on the future UK project outlook
Hosted by the Offshore Wind Industry Council
Speakers: bp/EnBW and Orsted

16:30 - Drinks reception
Thursday 10th November 2022
08:30-17:00
08:30 - Exhibition open
09:15 - 10:00 Dogger Bank Wind Farm update
Dogger Bank Wind Farm

10:30 - 11:00 Clean Energy Growth the Journey to Net Zero
Hosted by the Department for Business, Energy and Industrial Strategy
Panellists: ABB

11:30 - 12:00 Tackling the skills shortage in the offshore wind industry
Energi Coast Skills Group, AIS Survivex, Teeswork Skills Academy

12:45 - 13:15 The global journey to offshore wind, how North East England can support
Hosted by the National Offshore Wind Institute
Presentations by the Department for International Trade

13:45 - 14:30 Floating Offshore Wind – a key opportunity for North East England
Panellists: Equinor, Copenhagen Offshore Partners, Principle Power and JDR Cable Systems

14:45 - 15:30 Titans of offshore wind - Supply chain and procurement opportunities across the tiers
Hosted by NOF
Presentations by Smulders, Van Oord and Royal IHC

15:30 - Event close
More speakers to be confirmed...
Get your tickets here.